After a quiet night crossing the Red Sea Jasper reached Jeddah the next morning.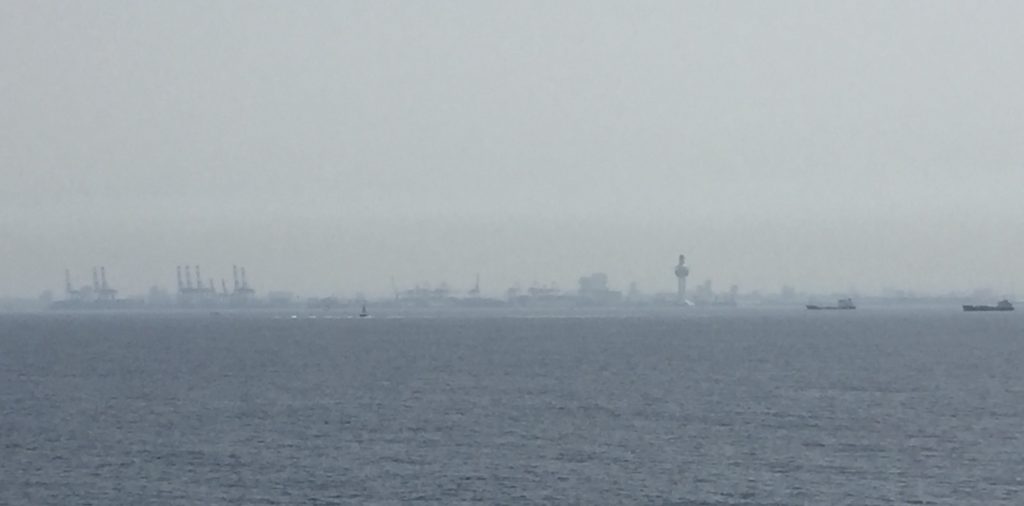 After immigration clearing the cars from the ferry took about six hours. So only around 5pm Jasper could drive his first stretch in the Middle East, and drove till darkness set in.
While it was quite a distance, the good roads made driving in Saudi Arabia smooth. And although you don't get to know much of the people when you are on the road all day, one occasion made it clear the Saudis are as hospitable as any other Arab people: in the morning a couple in a regular car waved to Jasper getting him to stop next to the highway. Not quite understanding what they wanted, he pointed at a bottle of water. But they shook their heads, and instead lifted a flask. So -despite normal routine- he pulled over to find out. They had seen his foreign license plate and only wanted to offer him a paper cup of true Arabic coffee. And off they went again. How friendly!
---
As Saudi Arabia is not very women friendly and not allowed for unmarried women (they have to be accompanied by their father or brother), we decided that Jasper was going to drive to Jordan via Saudi and I was going to fly to Amman.
Flying was an adventure on its own as they didn't allow me on the plane,since I only had a one way ticket.  Luckily the manager allowed it after a short interrogation and by not taking responsibility if I wasn't allowed in the country. I met this lovely lady Katherine in the boarding hall and a steward gave us a seat next to each other (also being the only western looking people on the plane), so we spent the whole flight chatting. He even gave us free food, as he was Kenyan and so was Katherine.
I arrived in Amman at night and felt both strange because of being alone without Jasper and sick because of a parasite that has been bothering me every now and then since Malawi.
The next day I still felt bad but in the afternoon I decided to go to town to buy a bus ticket to Aqaba for the next morning. I walked from the bus office to the old town and arrived next to the ampitheatre. Amman is built on 19 hills and everywhere you see white houses and flats.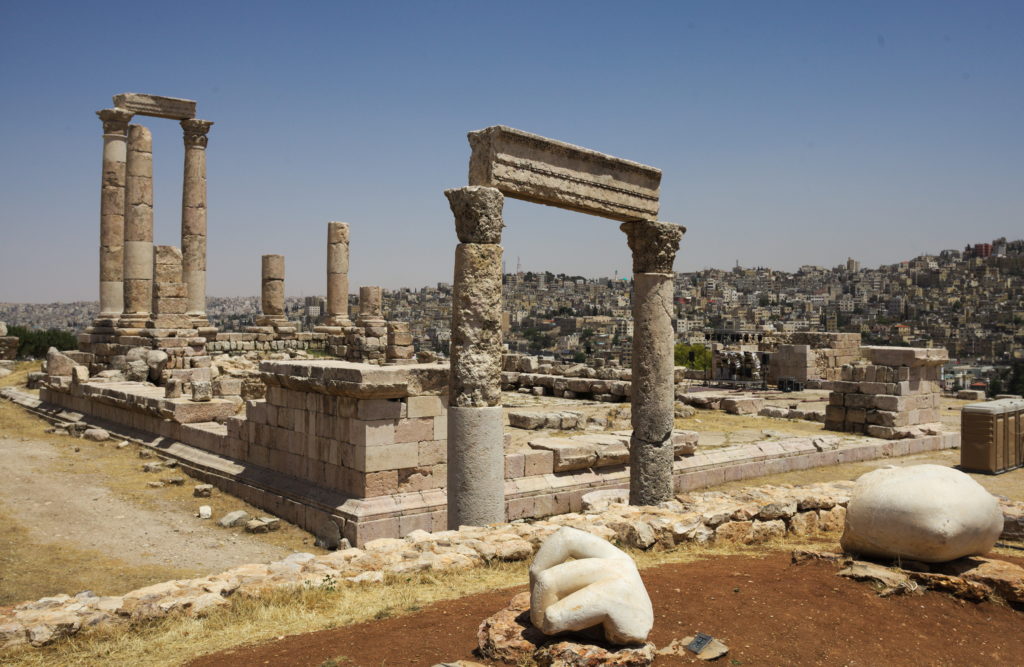 Amman-Aqaba
I arrived in Aqaba on monday afternoon and expected Jasper to arrive there tuesday evening or wednesday, so some time to read, relax next to the pool and watch The Killing. Luckily he arrived on tuesday and the next day we drove to the south part of Aqaba to do some diving. We stayed at Darna Village, a great family run place.
The next day, a Dutch guy, Henk passes by and invites us for a Dutch get together in Aqaba (how cool that is!). We join him and Andree, a Dutch friend who is visiting Jordan, but nobody showed up. We had a great time anyway, mainly because all guests were as drunk as hell! Henk also invites us for a desert tour with some Jordan people and expats. Together we go to Wadi Araba and meet the others. We end up driving an afternoon and a morning with those lovely people. As we were heavily loaded and careful not to damage the engine or clutch, we got terribly stuck in a bowl. All the 'desert experts' had a different opinion on how to get out nut nothing worked. Eventually we used a winch and at sunset we were out. The Bedouins prepare us dinner and sitting at night in the desert makes us felling happy and blessed to be able to be doing this trip.
During this trip we also meet Adriano and his daughter Lara and boyfriend Daniel, lovely people and they invite us over for a bbq at their place in Amman. What a lovely evening it was, we hope to meet them again in July in Italy!

Petra- Madaba
After the desert trip we went to Little Petra to have a look at this beautiful old village. We decide to start there again the next morning and walk from Little Petra to Petra. It feels surreal to walk in this incredible old area. The guide insists to have us sleeping at his place, in his cave, as a lot of bedouins live in a cave. We kindly thank for the offer but still he is a bit offended we say no. We walk all day to and in Petra and walk through this incredible city.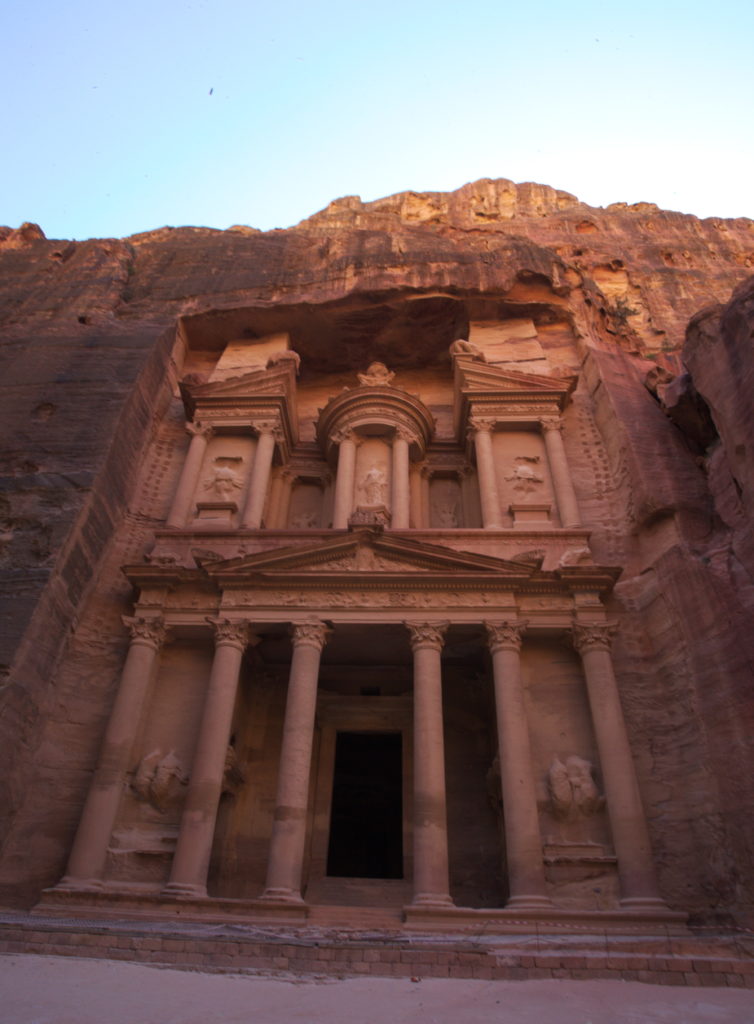 At night we book a massage in the turkish bathhouse in the hotel. As I come back from my massage I see Jasper laying down next to the sauna area. He isn't feeling well he says, 3 guys lift him but I know that pale look, he is going to faint. The massage guy is familiair with this and asks me to get cold water. He throws it in his neck and face and he wakes up and vomits in the turkish bat house, oeps. Luckily he feels better after this, but no more sauna for him today!
The next day we drive to Madaba, we intended to sleep next to the dead sea but there are no camping area's and the resorts are all very expensive so we decide to drive to Madaba to visit the old churches and walk through the city.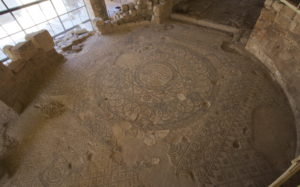 Amman + Umm Quays- Jerash
As we drive via Amman to Umm Quays, the clutch gets stuck. We decide to stay in Amman to have it fixed. Unfortunately there is no spare parts so we take the risk of reaching Haifa with a broken clutch. We take a rental car to visit the Dead Sea, Umm Quais and Jerash. On our way to the dead sea, the car makes a spin twice, on a steep slope. Luckily there was nobody on the road…. So much for the rental and we bring it back. We arrive late at the Dead Sea and it is a public holiday, the place is packed with people and they ask about e25,- pp with another half an hour left till sunset. We decide (again!) not to do this now.
A guy from the hotel knows a garage that seems to have spare parts. We go there and Jasper and the owner test the car, nothing wrong with the clutch he says. They invite us over for lunch and want to buy our winch and bumper. We don't have to use it anymore and sell it to him. They change the oil too and it takes them all day, it feels as if we are back in Africa…. We were supposed to meet Adriano for a coffee but we can't make it as we are at the garage waiting and waiting :(.
We visit the death sea again with our own car and this time I WILL float in the dead sea :). We went on a quite tuesday morning and experienced this weird feeling of doing nothing but floating!
Our last trip in Jordan was a drive to buth Umm Quais and Jerash to visit the old ruins. Jerash is next to Rome on of the biggest ruins of the Roman time. We drive around it which gives a great view of the area.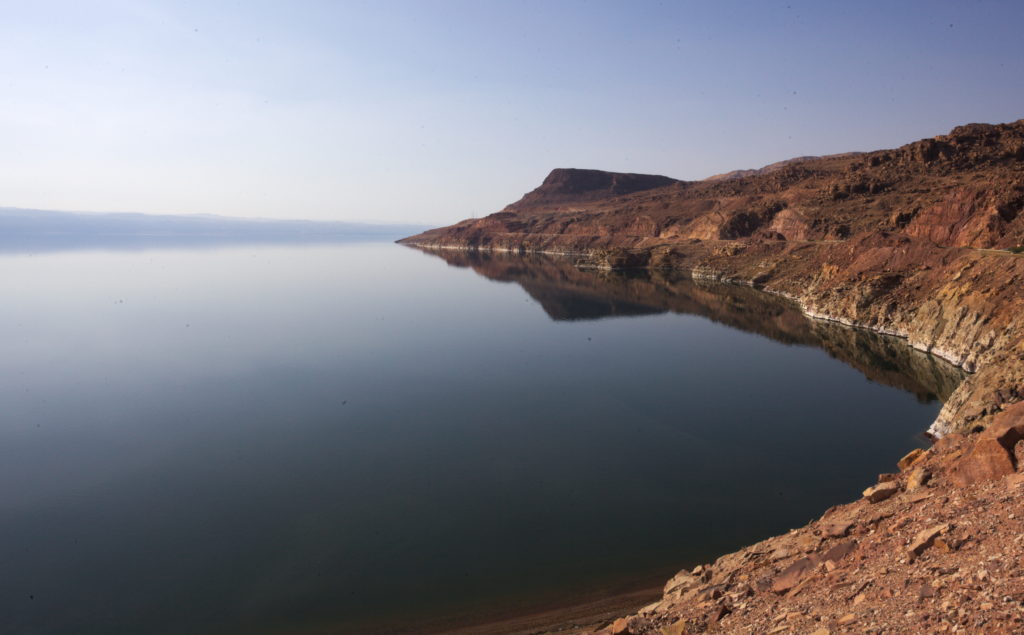 Aqaba- Negev desert
We leave Amman and drive to Aqaba to cross the border to Israel the next day from there. We are welcomed in Israel by a soldier with his finger on the trigger of his gun. Not a warm welcome….As expected the check at customs is a tough one. We have to take almost everything out and the car is X-rayed and checked thoroughly. After 3,5h we enter Israel and drive to the goat farm of Gadi and Lea whom we have met in Harare. They run a farm with some beautiful cabins and a small shop where they sell home made cheeses. Their son runs their farm for 1,5year so they can travel and he shows us around. We even see a little lamb being born! They take us out for dinner and have us stay in one of their cabins and enjoy it very much as they are very warm and friendly people. Unfortunately we have to leave to be on time for the ferry but we would have loved to have more time on this peaceful place in the desert with this family.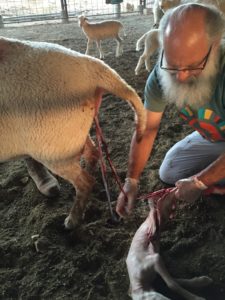 Betlehem- Jerusalem- camping on the beach
We reach Bethlehem around lunch time and are astonished by the walls and signs we see on not entering the Palestinian area when Israelian, as it might kill you. Betlehem is beautiful though and the nativity church in the centre is a holy place, as it is considered to be the place where Jesus was born. People go insane in this church, they cry and let themselves fall on the ground! We just watch and I light a candle for my father, my aunt Inge and other beloved ones who have passed away, something I do every now and then.
Before we went off to Jerusalem, we had a coffee at a -we believe- a fake Starbucks but we don't think the Americans dare to enter this area to check on it ;).
Jerusalem is a surreal place, the place breaths history and we end up driving just into the old city through these narrow old streets. Only later we found out this is prohibited for non residents but a guy helped us, how lucky we are! We walk the whole afternoon through the different areas and pass the western wall and watch a film about king David. We enjoy being in Israel but this day marks the complexity of this country and it feels a bit uncomfortable.
We also noticed it when we camp next to the beach between Tel Aviv and Haifa. A young couple enters and they start a conversation, one of many over the last few months but they had never seen a roof top tent before. They can't stop saying amazing and ask if they may have a look. They also like to travel (with a rooftop tent?) and end up bringing us all their food, how friendly! Later on a guy enters us and starts talking about religion, he doesn't want me to shake his hand as I am a women and he wants Jasper to tell him he is the blessed one. Jasper kindly refuses and only after 30min he leaves. To me this 2 of the many faces of this country.
Haifa- Tel Aviv
No we are not in Africa anymore: within 2,5hrs we book a ticket for the boat, drop the car on the boat, book an apartment in Tel Aviv via Air BnB and buy a train ticket to Tel Aviv. This city has stolen our heart (apart from the attack the day before 🙁  We stay next to the Carmel market and walk 2 days through town, also thx to Gadi and Lea who had drawn us the route.
Tel Aviv is a mixture if young families, hipsters, older people, students, sun, sea, bars, great restaurants, lovely shops and a great atmoshpehere!
Shame we had to leave already to pick up our car and start the last episode of our trip: the mediterranean and the balkan!