It has been a while sinds we have posted anything and we have been travelling a lot. After the wineries we went via Cape Point to Gansbaai. Jasper did some shark cage diving here! From there we went to the most southern part of Africa, Cape d'Agulhas, for us the most southern part of our trip. We came up with the idea of travelling to the most Northern part somewhere in Scandinavia, although one must have dreams :).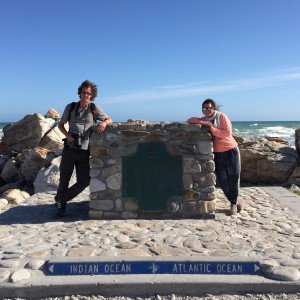 The car seemed to leak oil so we made an appointment at the garage in George. Although it was quit busy due to festive season, they managed to squeeze us in on tuesday morning. We are quite relaxed after a few weeks of traveling now and well waiting for a day isn't a problem to us anymore…. The car was fixed at the end of the day and we drove to Knysna. We had found a camping just outside the village and again a beautiful place. Knysna is a lovely but touristical place so time for a decent lunch!
From Knysna we drove in 2 days to the Drakensbergen, Sani Pass. On the road to the mountains a guy filled our car with petrol instead of Diesel and a mechanic had to come to let the petrol out. Luckily we we found it out just in time. Time to buy a diesel sticker!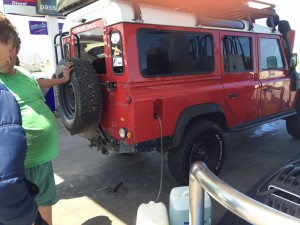 We have spent a few days at Sani pass to do some hiking and drive to Lesotho. Times are changing and the Chinese have paved the roads in Lesotho, incredible!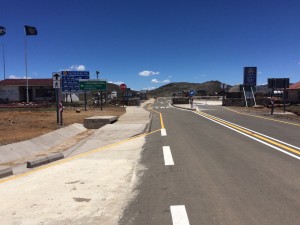 At the Sani Lodge we've met a few dutch group and they tipped us to go to Cape Vidal in the Wetlands. Thx for the tip guys, it do is a beautiful place! Unfortunately those wetlands suffer from lack of rain and the lake is half the size. It looks a bit desolate and it's a pity to see the effects of global warming and not looking after our planet.
Yeah, time to go to Amakhosi Lodge, our most luxurious and exciting part of our South African trip because we are going to see game with a ranger in this beautiful game resort. They looked a bit confused to see us arriving with a big dusty Defender, all set for camping! Our time at Amakhosi Lodge was fantastic, mainly due to the great stories of the ranger, the game he showed us and the lovely couple we've met! Monique and Tal; we do hope we will meet again and the good thing about life is that time will tell :).