Zambia
Kabwe and Kasanka
Early morning we've said goodbye to Zimbabwe and a sweet goodbye as this country has a place in our heart (even the police 😉 . We planned to go to Kasanka NP and as this was too far for one day we looked for a place to stay but, nothing to be found… No campsite and only some crappy hotels or lodges so we ended up in Tuskers hotel, the local business hotel. The next day we continued our trip to Kasanka NP. A beautiful park with a lot of water and grass and since it was rain season, some rain too. We celebrated Jasper's birthday here with a good lunch and a boattrip. the campsite was just beautiful, close to the water with a lapa and a fire place and every day, staff would come to ask about our 'program' to make sure that we would have a warm bucket shower and a fire at night. When checking out the guy at the main lodge asked us to pay another USD 40,- as we hadn't settled the complete bill yet according to him. After a while he admitted to have made a mistake and was afraid to loose his job. We asked for the manager, a lovely lady from London and she immediately said to leave it like this. We chatted for about an hour about our trip and her trips, everything is ok when you aren't in a hurry :). Apparently minimum wages had increased with 100% recently so they had to raise prices but didn't think it through.
Lusaka
We intended to go to the Bangweulu Wetlands but they were too wet so we decided to go to Kapishya Hotsprings. However, the road between east and west in north Zambia has been under construction for a while and the other road couldn't be used because of the rain season. The only alternative was to leave the hotsprings for what they are and go to South Luangwa via Lusaka, a detour of about 800km….
On they way back to Lusaka we needed a place to sleep and we coincidently found Fringilla Farm, a lovely farm with its own restaurant, butcher, coffeeshop, rooms and campsite. As we were experiencing another problem with the car, we drove straight to the landrover dealer in Lusaka. We couldn't brake on the motor, so we had to drive carefully on the hilly and busy roads. At the garage they couldn't find the problem easily and later on we found out that they'd been having troubles with training staff and had little experience with the Defender TD5. We ended up to spend 3 days at the garage just finding the cause of our problem, even with Jasper and the manager eventually helping the mechanics. After the first day at the garage, we were quite late and the traffic jam was just horrible, we bumped into another car. Luckily it was just the taillight that was broken and the guy offered to settle it without police. However a police office saw it happening and took the drivers licences as a back up. So the next day, Jasper and Chris (the guy we bumped onto) went to the office and Chris had warned us that the officer wanted to have some money (KW 200 a 300). The police officer wanted a chat with Jasper alone and said that he wanted us to have a positive feeling about Zambia however we could show some gratitude. The table even had a double layer to give some money under the table :). Jasper said: well I could give you some but I wouldn't want to be bribing you?! The police officer said 'well I think we have a miscommunication here,' and clumsily started rephrasing his question, handing back the drivers licence. Eventually Jasper put KW 40 on (eh, under) the table and the guy walked out leaving the money behind! That was when Jasper took back the money and ended up not paying anything at all.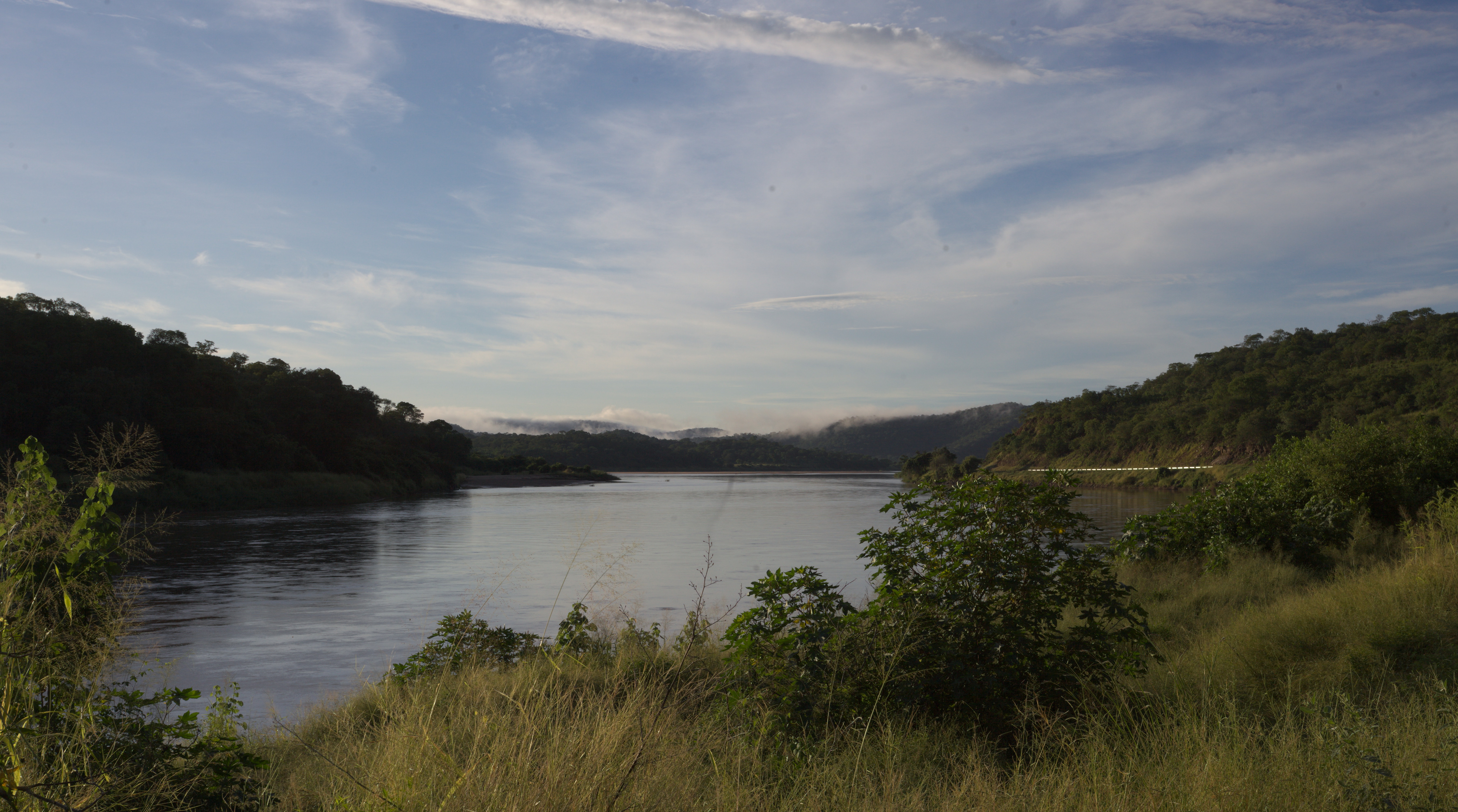 South Luangwa
According to the books and internet this should be one of the prettiest parks in Zambia/ East Africa. We found a beautiful campsite close to the river, a place where overlanders often go to. We've spent to 2 days in South Luangwa and to celebrate Jaspers birthday (a week after!) we had dinner at Flatdogs, a nearby lodge and restaurant. We've also had the most warm and humid night ever here, incredible it just didn't cool down!
Malawi
Lilongwe
Pouring with rain we entered Malawi, where signs ironically say: The Warm heart of Africa. As there is a drought in the south, the rain is needed badly and it only stopped raining at 20.00h that evening. We hadn't expect that so we decided to camp at the local golf club where they have a (worn out) campsite as well. Luckily they served good food :).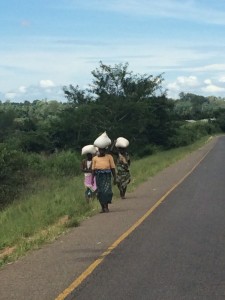 Majete- Blantyre
The next day we headed to Majete and the last 30km the road became a bit rough. We decided to continue as a detour would take us 2 extra hours and it would get dark in 3 hours. The first part was just horrible with rocks and steep parts and the second parts was ok, but then we had to turn right and our navigation said: 4×4 road. We decided to try a few km's and after 200m Jasper said that he felt no pressure on the brakes. Oh no, not again a failure of this red monster?! Luckily we were 40km from Blantyre and with some South African help via the satellite phone from Mark of Landrover Adventures (Thx!) we managed to drive to Blantyre on low gear with 3 brakes via a beautiful route though!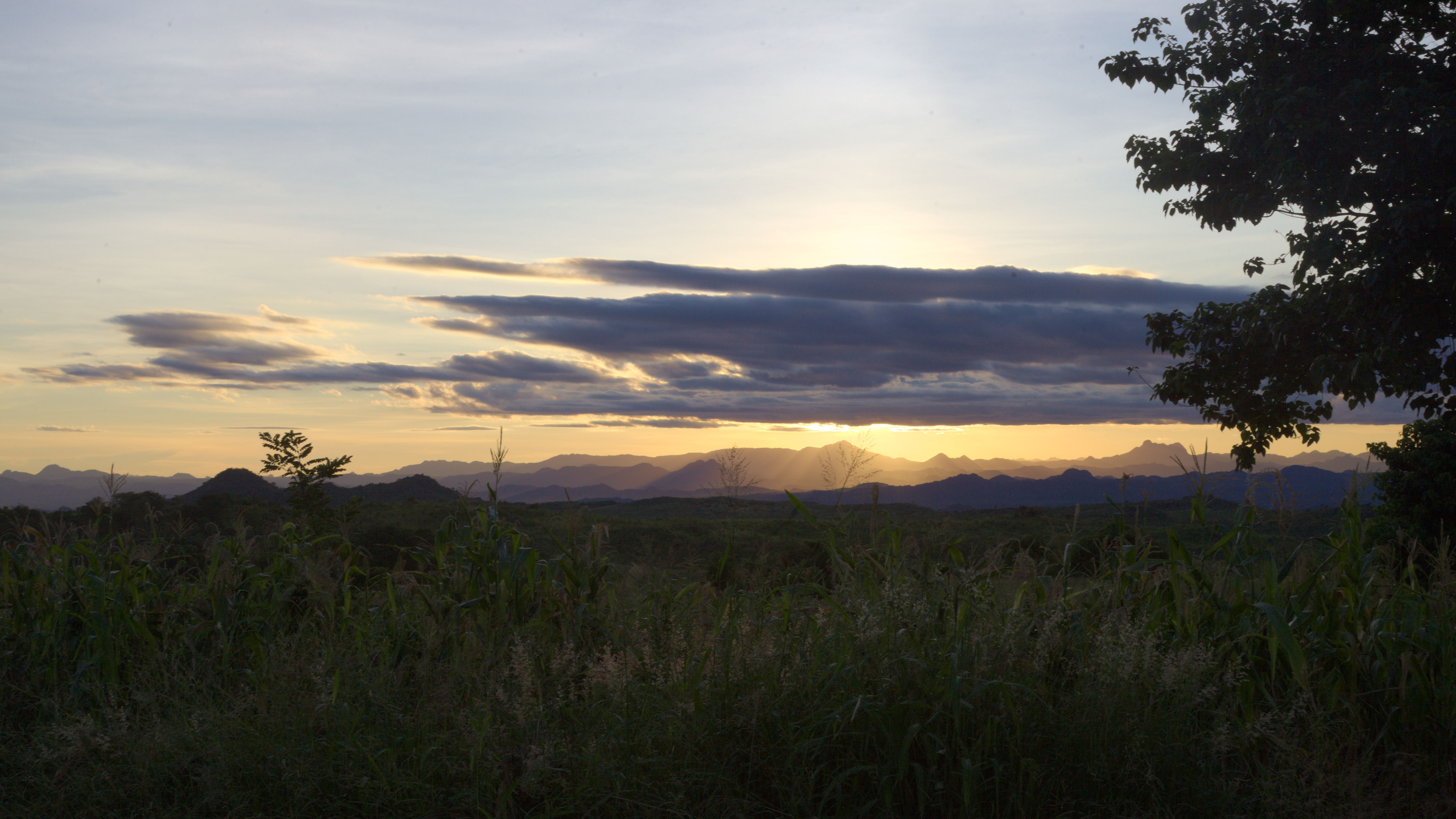 We found another Landrover garage (we could start writing customer reviews for them and comparing as we've seen many already…) and they managed to find a caliper, as our caliper had broken off. They would schedule it for the next day and it would take them 3hrs. This turned into 3 days as they had found the wrong caliper at first and had troubles taking out the remains of one of the broken bolts from the axle casing.
We were very happy to drive to Majete (via tarred road this time) and as it was a short drive from Blantyre we arrived early. We decided to do a boat safari as the last one in Botswana was wonderful as was this one. We saw hippo's barking again and again, crocodiles, birds, antilopes and a commmon eland all at a beautiful sunset. Back at the campsite the friendly host Henry made us a fire to braai; just a perfect day!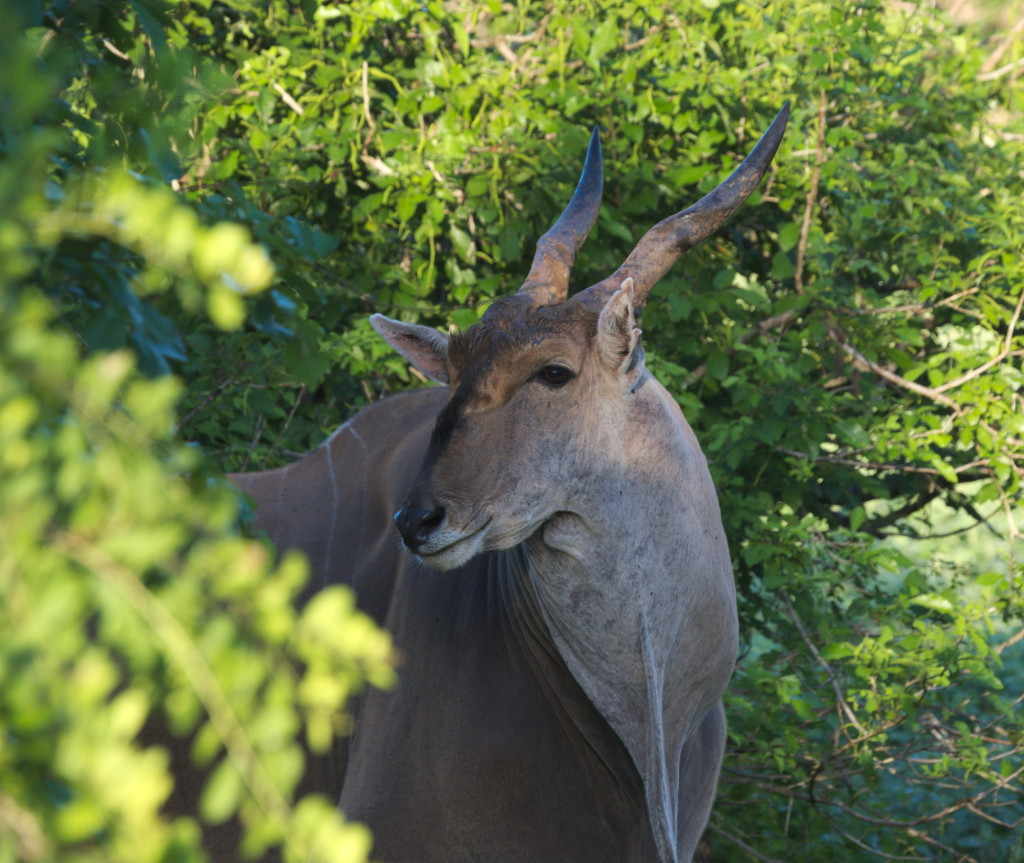 Zomba Plateau
As it was easter weekend we did some shopping in Blantyre before going to the Zomba Plateau. We drove on the plateau with beautiful views and a lot of green and found a lodge run by an Italian couple just at the beginning of the mountain. The Italian guy was very friendly and we had a chat about a lot of things, before we knew we had drinks and dinner there and went straight to bed. Our easter breakfast was one with eggs, Italian cappucino and a lovely view! The Italian guy told us about the population of Malawi and as there is no control it is expected to grow incrementally in the coming years. This will become a problem as it is already crowded. Furthermore the country is relying on help of NGO's and other non profit organisations. We've met a lot of volunteers from the Netherlands, Belgium and Germany and to us it is difficult to see how this will help Malawi in the long term as the country depends on this help. But what will help to make a country self supporting and is this the aim of these NGO's?
Lake Malawi
Our first stop was at Monkey Bay where we stayed at a beautiful but weird place: it appeared to us that the owner and manager and some friends were bloody stoned and we were interfering. Other than that it was a beautiful bay and we took a swim and snorkeled the afternoon.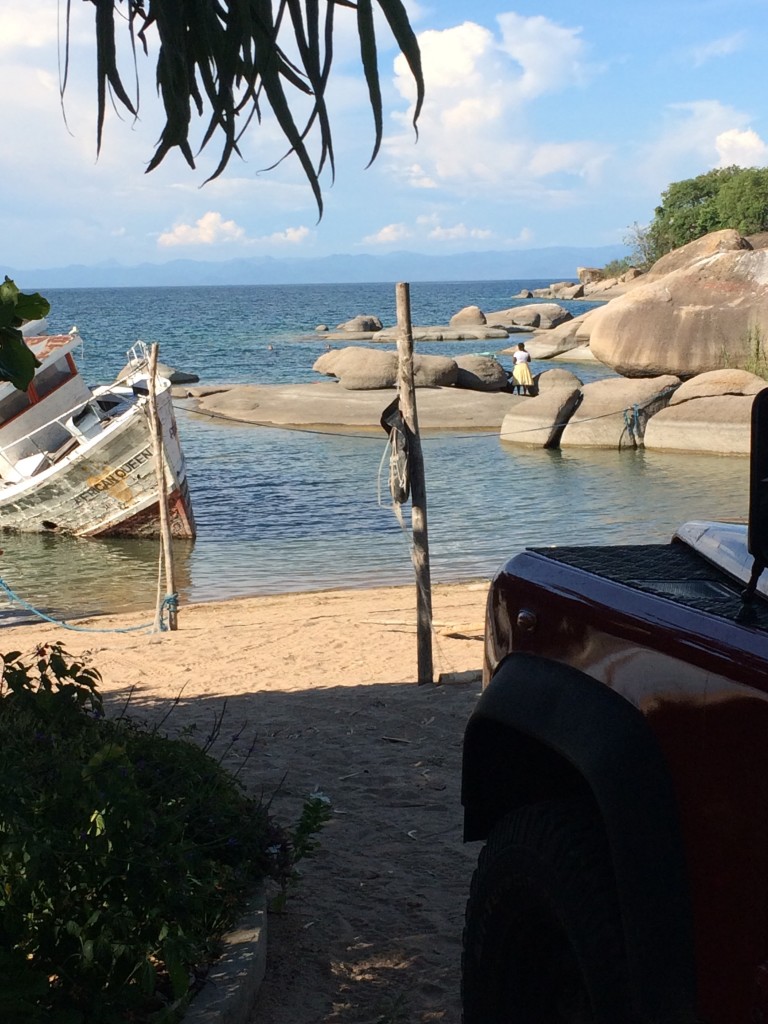 Heading north we'd got a place recommended by a few people we've met (Makuzi Beach Lodge) so we had to go there as well. Again a beautiful and tranquil place with its own beach and sunbeds.
The last place near the lake before going to Tanzania is Lukwe lodge near Livingstonia, owned by Auke a nice Belgian guy and also recommended by other people. The drive up the mountain is quite epic but the lodge is beautiful with stunning views, runned eco friendly and with a (organic) garden from which they take everything to prepare the meals. You could call Auke a wood artist: he'd made everything himself and it looks great.