It was a very exciting moment late Tuesday evening when we saw that the vessel Vicente containing our car was about to enter the harbour of Cape Town.
After it had been windbound during the night and therefore could not moor according to plan it anchored in the bay until yesterday late morning. When we drove by to get a closer look we saw black smoke coming out of the exhaust pipes: a good sign that it was underway to the harbour! As we already knew the examination by the customs was to be scheduled for Thursday we decided to see more of the surrounding.
On this 'walk in the park'  (well, in the Mountain Table National Park, with its famous Tafelberg towering about 1,000 meter over Cape Town city centre) we saw the ship moored in the harbour.
And today was the moment of truth: the opening of our container by the customs official. After cutting the seal they opened the doors and we got to see our car back, apparently in good shape!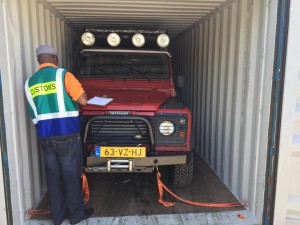 Tomorrow all the paper work will be finished and we can take it with us to fit it with the most important missing part, a roof top tent.